I'm delighted to have Dawn Wilson share her wisdom on how to "release the brakes" that hold us back. Dawn assists Nancy DeMoss Wolgemuth with research and works with various departments at Revive Our Hearts. Learn more about this talented gal in her bio below.
Now here's Dawn…
A Clinical Psychologist who motivates Olympic athletes, Dr. Larry Iverson, once said, "You can go amazing places when you quit stepping on the brakes."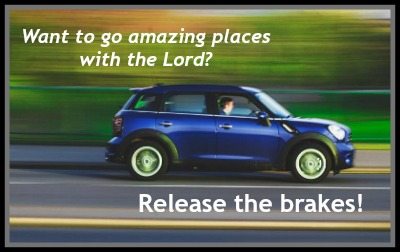 Photo credit:Megapixelstock_Stocksnapio
I have a little red, wooden car on my desk with that quote taped to the underside, and every time I see it, I think, "Release the brakes!"
From a Christian perspective, I think this is true too. Jesus said, "No one who puts his hand to the plow and looks back is fit for the kingdom of God" (Luke 9:62).
While this verse may apply primarily to people's response to God's call of salvation and surrender, I think there's another application. God calls each of us, once we have trusted Christ, to use our gifts for His glory. We start out well and follow Him closely. We delight in our marching orders from the Lord.
But then we encounter difficulties. Or distractions. Or delays. Or derision. Continue Reading